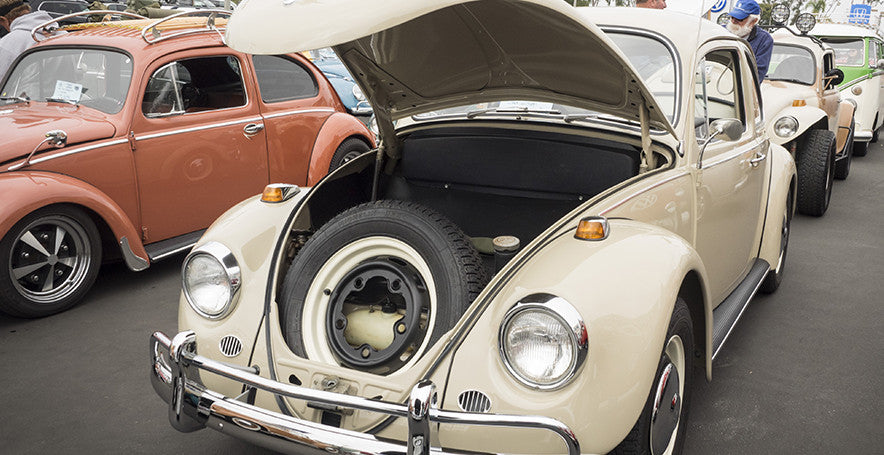 This is another one of those topics we receive a fair amount of emails about. Any time fuel is involved, there is an understandable reason to be nervous. However, rest assured you can, in fact, replace the fuel tank in your vintage pride and joy. It all starts with a 13mm wrench and a bit of confidence.
YOU CAN DO IT! Deep breaths, and take each part step-by-step. I also recommend picking up a set of plastic stack-on organizer bins. These help keep track of the small bits.
WARNING: Gasoline is extremely flammable, so take extra precautions when you work on any part of the fuel system. Don't smoke or allow open flames or bare light bulbs near the work area, and don't work in a garage where a natural gas-type appliance (such as a water heater or clothes dryer) with a pilot light is present. If you spill any fuel on your skin, rinse it off immediately with soap and water. When you perform any kind of work on the fuel tank, wear safety glasses and have a Class B type fire extinguisher handy at all times.
Ok, let's get started!
Remove your trunk liner; push in on the corners, and it should lift right out.
Unscrew and remove the fuel gauge cable from the sending unit. Remove the cover from the sending unit and simply remove the cable from the lever arm. Keep the sending unit installed as this will help to contain the fuel in your existing old tank.
Loosen and remove the four bolts and clamps located at each corner of the fuel tank. A 13mm socket will do the trick.
Lift the fuel tank slightly and rotate 90-degrees. This will allow access to the fuel hose. Attach a hemostat to the fuel hose, and remove the hose from the main steel line. A pair of vice grips will work as well, but a hemostat makes you that much cooler. Sorry, but smoking is not allowed during this process. 
Remove the fuel vent hose from the fuel tank filler neck. 
Lift the tank from the car. Take a moment and pat yourself on the back because you've done a great job.
To install the new tank, just do this process in reverse.
Parts You Will Need
Don't forget to pick up some fuel hose clamps and cloth braided fuel hose. Also, make sure once the old fuel tank is out that you remove the sending unit. You'll also want to install a tank outlet kit in your new fuel tank. This is very simple.
Speaking of parts, let's talk about exactly what you'll need to get the job done right:
111201075C: Fuel tank
113919133: Tank sending seal
111209021G: Tank outlet kit
111201621C: Tank seal, body to tank
111209185: German fuel line
111127537A: Fuel clamps
We are here to help!
I hope this helps you get over the fear of removing the fuel tank. It's really an easy item to replace. Just take it slow and remember not to smoke, BBQ, or strike any matches during the process.
---